About Online Proctoring
Online proctoring is now available: Test remotely, including from home!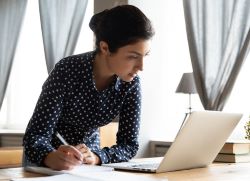 The Massachusetts Department of Elementary and Secondary Education is pleased to announce the availability of online proctoring for select tests in the MTEL program. Online proctoring allows you to take your test securely from your home, school, or business. With just a simple check-in process—involving ID verification, face-matching technology, and a live greeter—you can test without having to travel to a test center.
MTEL tests available via online proctoring
The following select MTEL tests* are available for online proctoring, in addition to continuing to be available via computer-based testing at test centers.
Online proctoring will be available for each test for a one-week window each month. Once a test has been launched online, it will be available in subsequent testing windows moving forward.
* Note: Due to technical requirements, certain MTEL tests may not be offered via online proctoring and will continue to be available via computer-based testing only. For example, tests that require the use of a scanner and tests that include an audio component cannot be administered via online proctoring.
Academically Advanced
Adult Basic Education
Bilingual Education
Business
CASA

Reading subtest (801)
Writing subtest (803)

Communication and Literacy Skills
Dance
Digital Literacy and Computer Science
Early Childhood—first test administration 2/6/2023
English
English as a Second Language
Essential Academic Skills Subtests I and II
Foundations of Reading
Health/Family and Consumer Sciences
History (06)—for testing through 2/5/2023
History/Social Science (73)—first test administration 2/6/2023
Latin and Classical Humanities
Middle School Humanities
MoGEA

Reading Comprehension and Interpretation subtest (866)
Writing subtest (867)

Physical Education
Reading Specialist—first test administration 9/19/2022
Sheltered English Immersion
Speech
Theater
Visual Art
Vocational Technical Literacy Skills
WEST–B

Reading subtest (895)
Writing subtest (896)
Can I Test Remotely?
Many candidates are eligible for remote testing. Review the following steps to determine if online proctoring is right for you.
Step #1: Make Sure You Have the Right Equipment
You provide your own equipment for testing. You must have access to the following:
Required—a desktop or a laptop; tablets and touch screens cannot be used for your exam
Required—a single monitor; extra monitors are not allowed; you need to remove them from the testing room, if possible, or unplug them
Required if using an external monitor with a laptop—you must have an external mouse, keyboard, and webcam and the lid of your laptop must be closed
Recommended—a personal computer rather than a work computer, which may have additional security that can interfere with your testing session
Review the complete system and testing environment requirements

Step #2: Take the System Test
Take the system test before you register

. This will determine if your equipment is eligible for online proctoring.
Step #3: Review the Policies and Guidelines
Review the testing policies and what to expect on the day of the test on this website. If you are able to comply with these policies and guidelines, you may register for online proctoring.
Registration Is Now Open
If you passed the system test, you may now register to test via online proctoring. Select your test for detailed scheduling information.